Start - What is chunking?
00:49 - Should you learn chunking?
02:05 - What division is.
04:13 - The Chunking method.
06:02 - Software demonstration
The music used throughout is "Mr Fiddlestick" by Ben Thomas, and is used with permission.
Film clips: Rumble in the Bronx (1995), The Goonies (1985), and some guy on a Harley Davidson.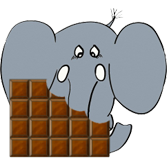 Chunking software (zip)

Help file